September 29, 2021
September 2021 Church Planter Special Feature: JD & Lauren Hettema
As we continue our 150th anniversary spotlight on church plants, we are taking a more extensive look at some of our planters and their families.
In September, we're grateful to share about JD & Lauren Hettema and Echo Church, which they planted out of Bethlehem in 2019, in Chino, California.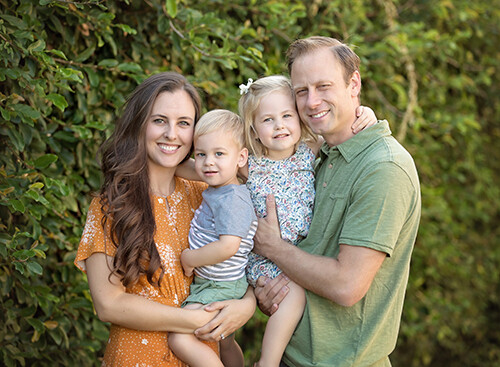 JD & Lauren Hettema with Audrey and Owen; not pictured are Pierce (2 years) and Julia (7 months)
Tell us a little bit about yourself and your family, and how God first called you to church planting.
My wife, Lauren, and I live in Chino Hills, California with our four children (Audrey, 7; Owen, 4; Pierce, 2; and Julia, 7 months). We planted Echo Church two years ago in October. I worked as a police officer before going to Bethlehem College & Seminary in 2012. While I was a police officer, I felt a strong pull on my heart to start something in or near my home town in Southern California. Though I didn't know the exact area, I felt a sense that the solid theology that is so prevalent at Bethlehem was needed amongst the sunshine of our climate. The more I enjoyed seminary, the more I felt a growing need to bring this theology "home."
What has been going well? What has been hard?
We are seeing discipleship form a strong foundation of believers in our church. But there is also pain as I will lose my co-pastor this month, who had a hard time living under the housing prices here. We will miss him, but we are trusting God to provide.
Please share a passage of Scripture that has been particularly motivating or encouraging to your church planting work.
A recent sermon I prepared is still on my mind. We are working through the book of Joshua, and we had arrived at Joshua 3–4. The chapters focus on the crossing of the Jordan River, which was a miracle performed by God to help his people trust him in the future. The people are called to trust God before the miracle and then remember the miracle by setting up memorial stones. This concept of "trust before and remember after" has been guiding me over these past weeks. He often works in the eleventh hour to build the faith of his people. I'm thankful for words like this to our church.
Is there a testimony of someone in your church plant coming to Christ that you could summarize in your own words?
Josh told me that he had "come to Christ" in a local college ministry but had not known true saving faith until coming to Echo Church and being discipled by a few of our leaders. Josh's story is a common one at Echo. A lot of people have had some kind of experience with church, but many did not know what the gospel truly was. That Lord has given us a specific ministry to these kinds of people.
Tell us about something you remember about drawing people to your church when you were just getting started?
I preached at a Filipino church before we launched. Little did I know I was preaching on the Sunday when the pastor of the church announced his (forced) resignation. Sadly, the small church fell apart and many people from that church came to Echo Church. This is a sad story, but it is interesting to me that God draws people to our church due to a variety of reasons.
Current Prayer Requests
For our church to be sustained by the Lord through this season of loss following my co-pastor's departure.

That the people of Echo Church would "trust before and remember after."

For more people to come to a saving relationship with Jesus through the ministry of Echo.
Send a note of encouragement to the Hettemas.
Thank you, JD & Lauren, for your willingness to share more about your church plant as we reflect on the 150th anniversary of Bethlehem Baptist Church!