November 17, 2021
November 2021 Church Planter Special Feature: Sean & Dana Cordell
As we continue to celebrate our 150th anniversary spotlight on church plants, we are taking a more extensive look at some of our planters and their families.

In November, we're grateful to share about Sean & Dana Cordell and Treasuring Christ Church, which they planted out of Bethlehem in 2005, in Raleigh, North Carolina.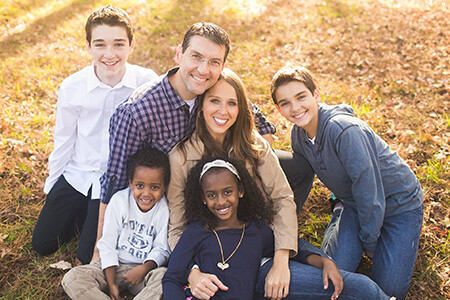 Sean & Dana with children Elijah, Jadon, Mercy, and Justice
Tell us a little bit about yourself and your family.
I have been married for 23 years to Dana, and we have 4 kids: Elijah is 19, Jadon is 17, Mercy is 13, and Justice is 10. We planted Treasuring Christ Church with three other couples in 2005 in inner-city Raleigh, North Carolina.
When did you first feel God's call on your life toward church planting?
In God's providence, while at Bethlehem for TBI (The Bethlehem Institute), I read the Scripture passage for Pastor John Piper's first sermon on church planting (first that I know of), entitled "Planting a Passion." I read the passage, sat down, and had no idea what he was talking about. From there Kent Capps (another TBI grad) and I were stirred to try to plant a church after seminary.
Tell us about one way that you have witnessed God showing his faithfulness to his people in your context.
"The steadfast love of the Lord never ceases … great is your faithfulness" (Lamentations 3:22–23). We have seen lives changed, churches planted, his presence with sufferers, his persevering grace with those in trial, leaders raised up, marriages strengthened, and adults and children baptized. After 16 years, the church's continual existence is nothing short of a miracle of God's faithfulness.
For one specific example, I'll share the story of God's provision for our church location. Back in 2013, I was "prayer driving" in our community because we had been renting for eight years (having nine locations in the first four years) and we were asking God to direct us for the next phase of ministry.
In downtown Raleigh, I drove past a 9,000-sq-ft. building that had a "For Sale" sign on it. This sign had been on the building for months, but I felt prompted to call the number on the sign. When I did, the broker said something like, "It is so weird that you called. This property has been under contract for six months with the local public school system, but it looks like it's going to fall out of contract tomorrow. Would you be interested in being at the top of the list?" I immediately said yes, not even fully knowing what that meant. I came to find out the property did go back on the market for $890,000 for the building and two acres of land. We had saved funds, but to make this purchase we needed $70,000 in three weeks and at that time we were only a little more than 150 people. After praying and discussing the opportunity with the elders, we put the financial goal before the congregation. I'll never forget the Sunday when we sought to collect the money—in three weeks our little church had raised $110,000! So we purchased that property.
After 4–5 years, we sought to relocate and sell that property due to our changing community. After a very long contract/selling process, we just closed on the sale this year, selling our property for $3.75 million dollars—four times what we paid for it. We were debt free before we sold this property, even after purchasing 17 acres of land for our new location in a low income area. Now we are seeking to use the $3.75 million to build a building for our church and community, debt free. God has been faithful to show off his glory through this church.
Share a Scripture passage that has been particularly motivating or encouraging to you in your church planting work.
Lamentations 3 has been a remarkable encouragement to me and to others. When I experience difficulties in pastoring or family life or my personal emotional state, I can feel like hope is lost. But in Lamentations 3, I see a fellow-sufferer describe in such graphic words the pains of the human heart, and then I see hope grow out of that soil of suffering—this has been a deep and sustaining grace.
Meditating on Lamentations 3:23–24 and calling to mind that "the steadfast love of the Lord never ceases; his mercies never come to an end; they are new every morning," has brought light into darkness, joy into sadness, and hope into despair. The reality that there will never be one thing or one moment I face alone—not people leaving, not depression, not family struggles, not sin within or sin toward me. Instead, in those moments, I will be met with steadfast, never-diminishing, always-abounding love for me. This quiets my anxious heart, upholds my discouraged soul, and fills me with a unique confidence in God's grace. This truth has upheld our people and upheld me to continue walking in faith day by day.
Has your church launched a ministry? Tell us a little bit about it.

Our church has been a part of seeing many other churches planted. Through TCTN, we created a residency and were a part of seeing two churches planted nationally in Chicago and Dayton, Ohio. Internationally, we have seen the New Testament translated for an unreached people group over the past 12+ years, and we have seen several churches planted in Central and South Asia.
How can Bethlehem be praying for you?
Pray that God will guide us and provide a way to build a building that is best for us and our community, debt free.

Pray that God will save many people to himself as we seek to engage 500 people in our community over the next several years.

Pray that our church would be unified, joyful, loving, servant-hearted, disciple-making, and nations-reaching.

Pray for our elders to have wisdom, joy, unity, peace, courage, and love.

Pray that our people would know and faithfully proclaim the word of God and that our church will be a house of prayer of all peoples.

Pray for God to raise up a music leader for our church from an ethnic minority group.
Send an email of encouragement to the Cordells.
Thank you, Sean & Dana, for your willingness to share more about your church plant as we celebrate the 150th anniversary of Bethlehem Baptist Church!