June 29, 2021
June 2021 Church Planting Update
As we continue to celebrate 150 years of church planting history at Bethlehem Baptist Church, we invite you to be praying along with us for our church planters, church planting residents, and the Treasuring Christ Together Network.
Church Planting Residency Updates
Please pray for new Church Planting Residents to be raised up at all three of our campuses. (

Applications

for the church planting residency program are due September 1, 2021.)

Remember to pray for our church planting residents as they finish their residencies. Marshall Posey has been approved by the North Elders to plant

Living Hope Church

in Champlin, Minnesota. And James Lecheler, along with G'Joe Joseph of Campus Outreach, have been approved by the Downtown Elders to plant

Center City Church

in San Diego near San Diego State University.
Church Plant Updates
Please join Dan & Angela Shambro (Ekklesia in Eau Claire, Wisconsin) in praising the Lord for the birth of their third child and first daughter, Evangeline Seraphina, on April 13 (6lbs 9oz and 19" long). She is healthy but was delivered by emergency C-section as the medical team discovered she was in a breech position (feet first). Angela is doing well overall but will have a longer recovery period—please keep her in your prayers.

Northfield Community Church (Northfield, Minnesota) recently called a new Lead Pastor, Josh Koehn. Former Lead Pastor Jonathan Woodyard is not leaving the church but transitioning into a new role at Bethlehem College & Seminary.

Redemption City Church (Grand Rapids, Michigan) is in the process of purchasing a church building. Join them in praising God that the amount of money they raised for the purchase was above their goal, which they can now put toward renovations in the building.

Emmaus Church (White Bear Lake, Minnesota) had their building dedication on Sunday, April 11. Praise God for the gift of a building and pray that it would enable Emmaus to have an even greater gospel impact in their community.

Redemption City Church (Rochester, Minnesota) is growing and multiplying! Not yet five years after being planted from Bethlehem, the church is taking big steps toward generational gospel fruitfulness. They have planted another church, are working on sending another planter, are beginning a Bethlehem College & Seminary extension this Fall, and are purchasing a building to solidify a future for these ministry efforts.

Read more

and find out how you can be part of this work.
TCTN Update
Several leaders of TCT (Treasuring Christ Together) Network of churches met in Montgomery, Alabama, May 12–13 for a Racial Harmony Summit. They visited the National Memorial for Peace and Justice and the Legacy Museum, and spent time discussing Racial Harmony in their own contexts. Against the backdrop of a polarized world, these leaders came together and renewed their resolve for racial & ethnic harmony in TCT churches. They plan to continue to talk together about how to fill that out.
Church Planter of the Month Special Feature
Throughout our 150th anniversary year, we are taking a more extensive look at some of our planters and their families. In June, we're grateful to share about Weyland & Katie Leach and The Heights Church, which they planted out of Bethlehem in 2013, in Saint Paul, Minnesota.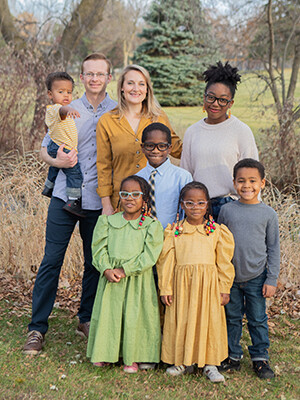 Tell us a little bit about yourself and your family.
I, Weyland, graduated from The Bethlehem Institute in 2003. While attending Bethlehem, I met my wife, Katie, who was working in the family ministry department. God has been good to me through Bethlehem Baptist Church! We now have six children and enjoy serving The Heights Church in cooperation with the Treasuring Christ Together Network.
Please share a passage of Scripture that has been particularly motivating or encouraging to you in your church planting work.
Jesus said to him, "Have you believed because you have seen me? Blessed are those who have not seen and yet have believed."—John 20:29

Here, Jesus pronounces a blessing on all of us who behold and come to the risen Christ through hearing of him. This means we are not bystanders to the glory of Christ, as though hearing of him is some inferior way to know him. Hearing of Christ is God's plan for truly knowing him. We then have as much of Christ through hearing as the disciple Thomas did through seeing. While not unique to church planting, the joy of knowing Christ through God's word reminds us that we are truly participating in God's saving plan.
Current Prayer Requests
Pray for God's blessing over our pastoral team and for the recent addition of two more elders.

Pray for the preaching of God's word. We are working through the book of Hebrews this year and praying to know Christ more as he is displayed there.

Pray that our flock will continue to mature as disciples of Christ and that we would be faithful in making Christ known to others.
Send a note of encouragement to the Leach family.
Thank you, Weyland & Katie, for your willingness to share more about your church plant as we celebrate the 150th anniversary of Bethlehem Baptist Church!