July 28, 2021
July 2021 Church Planting Update
As we continue to reflect on 150 years of church planting history at Bethlehem Baptist Church, we invite you to be praying along with us for our church planters, church planting residents, and the Treasuring Christ Together Network.
Church Plant Updates
Please pray for our

residency program

. Lately, recruitment has been slower due to the COVID-19 pandemic. Pray for wisdom for the South Campus elders at their elder meeting in August as they consider a candidate for a South Campus residency.

Marshall & Becky Posey and family are planting

Living Hope Church

in the northwest metro and are launching soon.

James & Betsy Lecheler and family have now moved to California to plant

Center City Church

in San Diego.

See a

video update

from Tom Boyer and Emmaus Church in White Bear Lake, Minnesota (planted in June 2020).

Please pray for the resolution of conflicts and turmoil in our church plants.
Church Planter of the Month Special Feature
Throughout our 150th anniversary year, we are taking a more extensive look at some of our planters and their families. In July, we're grateful to share an update from Pastor Lewis & Elizabeth Guest and Jubilee Community Church, which was planted out of Bethlehem in 2010, in South Minneapolis.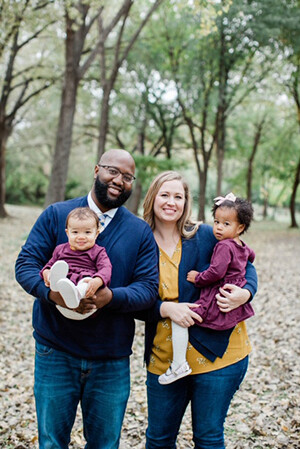 Recently, John Erickson, the founding pastor, resigned his role as lead pastor due to a long-standing health condition. He and his family continue to be part of the Jubilee Church family.
Can you tell us about a way you recently witnessed God showing his faithfulness to his people in your context?
Over this season of dealing with COVID-19, there have been countless opportunities to give thanks to God for our people. We have seen many ways, known and unknown, how God has shown his faithfulness to Jubilee through Jubilee. We have seen meals shared, times of fellowship planned and engaged in—from play dates with children to walking the neighborhood to talking on front porches. We give thanks to our good Father for the grace he pours out to the body through the body, which has been a witness to our neighbors.
What has been going well? What has been hard?
The Lord has poured out extraordinary grace for our body to discuss hot-button cultural issues and have discussion not end in hostility and disunity. Over the past few months, we held discussions on particular matters that have been characterized by humility, listening, seeking to understand, gracious pushback, and a desire to learn well. We do not take for granted that this gracious response came about, knowing that similar discussions have caused divisions in other communities. We are so grateful that we continue to seek to understand one another in our differences.
Has your church launched any ministries (soup kitchen, food shelf, church plants, etc.)? Tell us a little bit about it.
Jubilee Community Church has been in partnership with Jericho Road Ministries from the beginning. Jericho Road services residents of South Minneapolis and seeks to meet basic needs like hunger and lodging, while dealing with underlying issues to bring lasting restoration. It's been a joy for Jubilee to partner with them over the last 10 years.
Is there a testimony of someone in your church plant coming to Christ that you could summarize in your own words?
One of our members had the opportunity to share the gospel with his sister last year, and God poured out much grace in the conversation. The sister received Christ, and we had the joy of baptizing her a few months ago. She shared such a Christ-exalting testimony concerning what the Lord has done for her, and the role her brother played in sharing the gospel with her. We were grateful to invite her into membership and now walk together as we follow Jesus in community with each other.
How can Bethlehem be praying for you?
Please pray that the Lord would grant us much wisdom on the next season in the life of Jubilee Community Church. We have 10 years behind us by God's grace and are dreaming of what the next 10 would look like as we pursue making disciples in the South Minneapolis area.
Send a note of encouragement to Pastor Lewis.
Thank you, Lewis & Elizabeth, for your willingness to share more about your church plant as we celebrate the 150th anniversary of Bethlehem Baptist Church!