December 29, 2021
December 2021 Church Planter Special Feature: Jordan & Tracy Thomas
As we continue to celebrate our 150th anniversary spotlight on church plants, we are taking a more extensive look at some of our planters and their families.
In December, we're grateful to share about Jordan & Tracy Thomas and Grace Church Memphis, which they planted out of Bethlehem in 2006, in Memphis, Tennessee.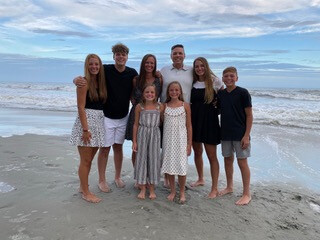 Jordan & Tracy Thomas and family
Tell us a little bit about yourself and your family.
I'm married to Tracy (22 years), and we have six children—4 girls and 2 boys.
When did you first feel God's call on your life toward church planting?
When I was a college student, around 1997.
Share one way that you have witnessed God showing his faithfulness to his people in your context.
Last Sunday, a sister in our church—whose daughter died in a car accident 14 years ago, whose marriage was restored after an eight-year separation, and whose husband came to faith in Christ about two years after the marriage was restored—told me, "My heart is about to burst thinking about how much God loves me." Her comment was made in light of our sermon series in the Gospel of John, specifically that the Son loves us just as Father loves the Son!
What has been going well? What has been hard?
Our mutual member care has been a source of great blessing and joy. The body has taken hold of God's call to "have the same concern for one another" (1 Corinthians 12:28). Meanwhile, several are suffering from the sin of unrepentant loved ones. Thankfully, the church body is rallying around them for care and comfort.
Share a Scripture that has been particularly motivating or encouraging to you in church planting.
To him be glory in the church and in Christ Jesus throughout all generations, forever and ever. Amen.—Ephesians 3:21
God loves getting glory in his church as he loves getting glory in his Son!
Is there a testimony of someone in your church plant coming to Christ that you could summarize in your own words?
A young man who grew up in our community and joined a gang at a young age has been loved well by multiple members of our church. He lived with two different families from our church, and he now belongs to Christ and is a member of our church.
Can you tell us about something you remember about drawing people to your church when you were just getting started?
I recall that my daughters (then 8 & 10 years old) set up a lemonade stand in our yard, and they had a total of one customer whom they also invited to our church. He came! I met with him later that week and shared the gospel with him. He returned every Sunday after that until he was converted a few months later during a meditation on the Lord's Supper in our service. He's a still a member of our body today, about 10 years later.
How can Bethlehem be praying for you?
Pray with us for grace as we are trusting the Lord to care for our flock.

Pray for the advance of the gospel in our city.

Pray also for us to have wisdom as we pursue a new building to gather in for worship.
Send a note of encouragement to the Thomas family.
Thank you, Jordan & Tracy, for your willingness to share more about your church plant as we celebrate the 150th anniversary of Bethlehem Baptist Church!