August 25, 2021
August 2021 Church Planter Special Feature: Mike & Jamie Bartlett
As we continue our 150th anniversary spotlight on church plants, we are taking a more extensive look at some of our planters and their families.
In August, we're grateful to share about Mike & Jamie Bartlett and Redemption City Church, which they planted out of Bethlehem in 2012, in Grand Rapids, Michigan.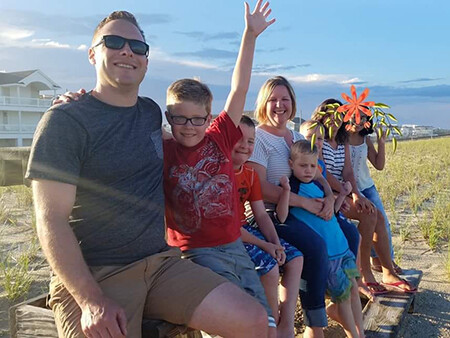 Bartlett family in 2019; one daughter not pictured
Tell us a little bit about yourself and your family.

My wife, Jamie, and I have been married for 17 years. We have seven children: four biological boys, one daughter adopted from Honduras, and two daughters in foster care—one from Mexico and the other from Guatemala.
When did you first feel God's call on your life toward church planting?

We were living in South Florida and working at a church. A mutual friend told us about the TCT residency. God orchestrated everything for us to move forward and has been faithful every step of the way.
Can you tell us about a way you recently witnessed God showing his faithfulness to his people in your context?

COVID-19 has been a crazy season to navigate as a pastor, but our church handled it with grace and a genuine love for each other. While members of our congregation differed on opinions, we saw God's faithfulness in not letting those opinions divide our church family.
Please share a passage of Scripture that has been particularly motivating or encouraging in regard to your church planting work.

We are in a series now on the book of James, and it has been so good for my soul. James 1:5 has been an anchor for me during this past year: The promise that God gives wisdom generously to those who ask. We aren't left on our own to navigate the complexities of church planting! That his spirit lives inside of us to equip, encourage, and sustain us is a huge source of comfort.
Is your church involved in local outreach and service in your community?

We have partnered with many nonprofits in our area. We are working hard to keep vulnerable families together and providing necessary support, but we also have several families who have stepped into foster care and adoption when needed. We partner with a ministry to support and encourage teen moms, and one of our community groups works to support women who want to exit sex trafficking.
Is there a testimony of someone in your church plant coming to Christ that you could summarize in your own words?

One of our foster daughters got caught in a sex trafficking situation and ended up in LA (a long distance from Grand Rapids!). Once we had all the details we needed, Jamie flew to LA and was escorted by Homeland Security and police officers to the place she was. Jamie brought her back home, and this young woman became a Christian about a year later. She's married now with two beautiful children, and we have a great relationship with her. It's been so sweet watching the Lord work in her life.
Current Prayer Requests
Praise God for his faithfulness in not allowing the church to become divided over various COVID-19-related issues.

Pray that God would continue to use the church's current series in the book of James to minister to Mike's heart as he preaches, as well as to the church body.
Send a note of encouragement to the Bartletts.
Thank you, Mike & Jamie, for your willingness to share more about your church plant as we reflect on the 150th anniversary of Bethlehem Baptist Church.