April 28, 2021
April 2021 Church Planter Special Feature: Coty & Beth Pinckney
In the remaining months of 2021, since our March spotlight on church plants for our 150th anniversary, we'll be featuring a more extensive look at some of our planters and their families. For these posts, planters were asked to share about their lives and ministries.
In April, we're grateful to share about Coty & Beth Pinckney and Desiring God Community Church, which they planted out of Bethlehem in 2003, in Charlotte, North Carolina.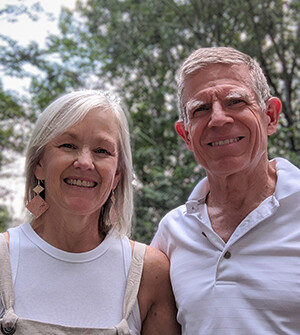 Tell us about yourself and your family.

Beth and I have been married for 41 years. We have six children and seven grandchildren. Called into ministry out of a career as an economist, in my mid-40s, I spent three months at Bethlehem, then a year teaching at the Cameroon Baptist Theological Seminary with support from Bethlehem. Having roots in the Carolinas, we moved to Charlotte in late 2002 exploring the possibility of planting a church. In February 2003 the Bethlehem Elder Council decided to support the plant. My son Matthew graduated from Bethlehem College & Seminary, and was a member of Bethlehem while he lived in Minneapolis; he and his wife are now on the mission field.
Share a passage of Scripture that has been particularly motivating or encouraging to you in your church planting work.

The first small group I led—way back in the 80s—went through a study on 2 Timothy. I memorized it at the time, when I had zero expectations of ever planting a church or serving as a pastor. The entire book has been my constant companion over the years; furthermore, this last letter of the apostle Paul has become increasingly precious to me as I have aged. On a sabbatical in 2019, I studied the Greek in more detail and re-memorized the letter with my own revisions. Here is 2 Timothy 3:16–4:5:

All Scripture is God-breathed and is profitable for teaching, for rebuking, for correcting and for training in righteousness, so that the man of God may be equipped, thoroughly prepared for every good work. In the presence of God and of Christ Jesus, who will judge the living and the dead, and in view of his appearing and his kingdom, I give you this charge: Preach the Word; be ready in season and out of season; correct, rebuke and encourage —with great patience teaching all doctrine. For the time will come when people will not put up with sound doctrine. Instead, to suit their own desires, they will gather around them a great number of teachers to say what their itching ears want to hear. They will turn their ears away from the truth and be turned aside to myths. But you, think straight in all circumstances, endure hardship, do the work of a preacher of the Gospel: fulfill your ministry.
Has your church launched any particular ministries? Tell us a little bit about it.

"A church of the nations, with ministries to the nations, both in Charlotte and around the world." That's been one of our taglines from the beginning. Around 2012, God brought a Congolese refugee, Bruno, to our church. Over the years he has witnessed to the gospel and invited others to our church. Since then, we have frequently read Scriptures in Swahili or French. In January 2020, we started a Swahili-speaking service and, despite the setback of COVID-19, that service has grown to about 50 people. One of our elders is involved in training the leaders of that congregation. We have a joint service about every few months, and the youth of both congregations meet together. You can view a video from our most recent joint service and see the Swahili choir singing at about 24:30 of this video.
Tell a brief story about drawing people to your church when you were just getting started.
When we had just moved here, when we knew almost no one, my son Jonathan and I attended an apologetics conference in Charlotte. We prayed together that we would speak to someone at the conference who would have some interest in the church. Lunch seemed the most likely time to have such a conversation—but he and I attended different pre-lunch breakout sessions. By the time we met up and went through the lunch line, it looked like all the seats inside were taken. As we were about to go outside to sit on a curb, Jonathan noticed that there was one table set for six with middle chairs on each side empty. He and I took those—and I began listening to an ongoing conversation between the two men to my right. One was talking about his frustration in finding a church, and he described the type of church he was looking for—using the very words I would have used to describe our plant! When I finally had a chance to speak, I asked him where he lived (people from all over attended this conference). It turned out he lived about two miles from our house! He and his family became key members of our church.
Thank you, Coty & Beth, for your willingness to share more about your church plant as we celebrate the 150th anniversary of Bethlehem Baptist Church!
Send a note of encouragement to the Pinckneys.