October 13, 2017
Praising God for 'Twins'!
It is my pleasure to announce that we, Bethlehem Baptist, have given birth to twins! As a parent church, we celebrate the blessing of God when we approve one church plant at a time. But last Tuesday, the elders approved two new church plants in one evening! If you are counting, these are the third and fourth new churches toward our Fill These Cities vision goal of planting 25 new churches by the year 2025.
On the Downtown Campus, the elders approved Downtown church planting resident Adam Pohlman to plant Redemption City Church in Rochester, Minnesota. Joining Adam at the meeting was Jake Tonak, a graduate of Southern Baptist Theological Seminary, who has partnered with Adam in pastoring the new church. The core group has been meeting since early this year and currently numbers over 60, including children.
A few hours later last Tuesday evening, the North Campus elders approved Ryan Eagy to plant Table Rock Church in Boise, Idaho. Present with Ryan at the meeting was Luke Miller. Luke was recently released from his Elder role at Faith Community Bible Church in Boise to join Table Rock as an elder. Additionally, at least two Bethlehem Seminary students plan to join the Boise Leadership team in the coming months, Don Straka and David Lund. Core group meetings have recently begun with a sense of expectation based on Christ's promise to build his church.

Please pray for both of our new church planters, Adam Pohlman and Ryan Eagy, and their families. Pray for unity among the core groups. Pray for an evangelistic grace that many who do not yet know Christ might hear the gospel, believe, and be reconciled to God. Pray that these new churches make disciples, baptizing and teaching obedience to everything Christ has commanded. And pray that, in the power of the Holy Spirit, these new churches might spread a passion for the supremacy of God in all things for the joy of all peoples through Jesus Christ.
Praising God for twins, and praying with you for them, that "the word of the Lord may speed ahead and be honored" through church planting (2 Thessalonians 3:1).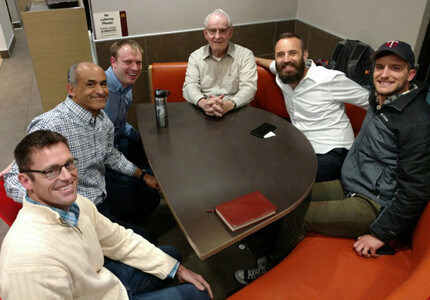 Boise Team: Luke Miller, Pastor Kenny, Don Straka, Cleon Engel, Ryan Eagy, and David Lund confer after the North elder prayer and approval.
The header image portrays the Downtown elder prayer for Adam Pohlman and Jake Tonak.