October 10, 2017
North Campus & the Mounds View Police Department
On Sunday, October 8, the Lord treated us to some of his amazing grace at the Shield 616 Presentation Ceremony in the North Campus gym!

Mounds View Police officers and their families, along with about 150 North Campus attendees, were a part of this meaningful time. About a year ago, the North Campus embarked on funding an armor kit and mobilizing "support groups" for each of the 19 Mounds View Police officers.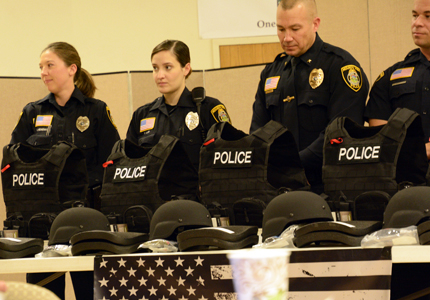 The new armor is the needed protection for the more deadly rounds often used in today's active shooter situations. The support groups consist of one or more North Campus individuals who have committed to being an encouragement through word, deed, and prayer on an ongoing basis.
Here is one note that came in from the MVPD since Sunday:
Vince, what an absolute blessing yesterday was to our agency! Thank you so much for what Bethlehem is doing. One of my officers said to me in the parking lot after speaking to someone in his support group, "Chief, I kinda miss going to church. I think I might start going again." I thought that was pretty awesome. Ramsey County Sheriff's Office and Fridley Police Dept will be contacting their churches in their jurisdiction to do this as well. Maybe this is a start to a revival in the faith of local police officers.

In His service,
Nate Harder
Chief of Police
Mounds View Police Department
We are praising God for this privilege to grow in relationships with those who are working to protect us, our neighbors, and our church building. Please pray that these new relationships will foster support groups and officers being "strong in the Lord and the strength of his might" and that the "shield of faith" that this program is named after would be our ultimate protection! (Ephesians 6:10–16)